Getting some ideas from existing things is very important when trying something new. This is especially true when starting a website for your business.
Observing other Funeral Home Website Templates is important when creating a funeral services website.

Although funeral home services are essential, attracting customers to your business is challenging. You need to understand very well how to best meet the customers' needs.
Your website plays a very important role there.

This article brings you 08 free funeral home website templates.
According to these website themes, you can get the ideas you need to create a captivating website.

In creating a funeral services website, focus on essential things like Sensitivity and Compassion, Clear Navigation, Essential Information, Service Descriptions, Online Condolences and Tributes, Personalization and Customization, Visuals and Multimedia, Mobile Responsiveness, Testimonials and Reviews, and Accessibility.

Apart from this, the domain used for your website is also essential. So, you should be careful about how to choose a perfect domain.
8 Funeral Home Website Templates
Anubis
This website is designed with an apparent and straightforward profile. Pay particular attention to the logo here. It adds a very professional look. Also, displaying their prices and packages very clearly at the bottom of the website can gain customer trust.
CLICK HERE TO VISIT ANUBIS
Compassive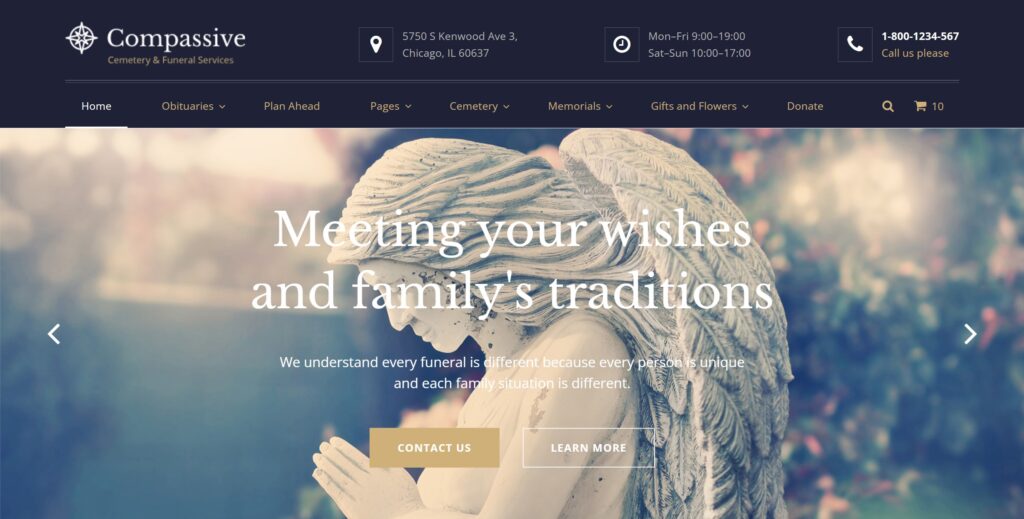 Check out this website. It is designed to give a sense of calm upon entering. Most suitable images are used in its main image slider. Also, there is another essential thing on this website. That is the contact information displayed very clearly at the top of the website.
CLICK HERE TO VISIT COMPASSIVE
Blessing
Compared to the previous two sites, this one is colorful. Such a site also has a somewhat striking look. But pay attention to the colors used. They are not very bright colors. They are dark and neutral colors. Coordinating colors on a website is also essential.
CLICK HERE TO VISIT BLESSING
Cristóbal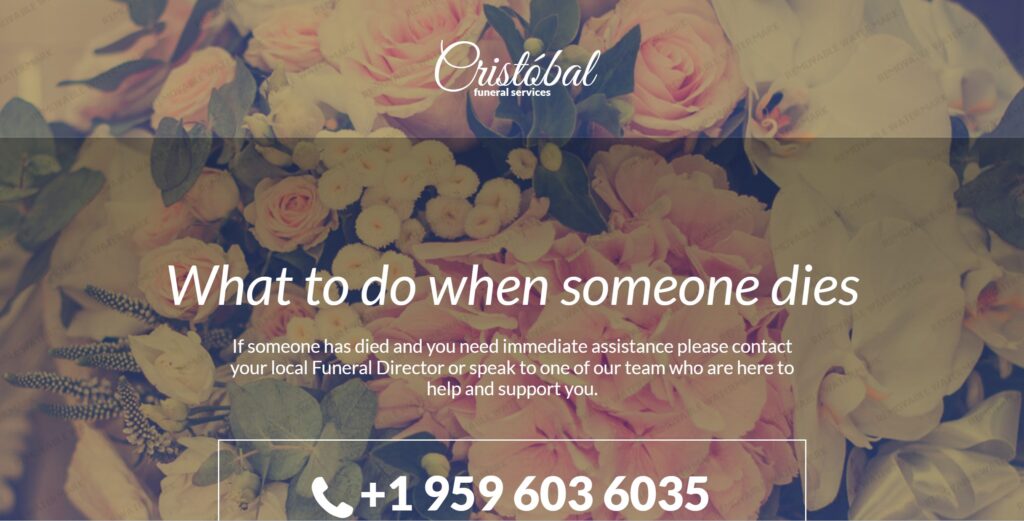 Another unique landing page. And it's simple. Displaying the phone number in large letters is a way to increase sales over the phone. If you like, you can try the same method on your website. Here, cursive font is used for the logo. It is something different.

Also, this site has plenty of room for other widgets. But it seems a bit too much. If it's a bit compact, it will reduce the emptiness of the page.
CLICK HERE TO VISIT CRISTÒBAL
Sample-Logo Funeral Home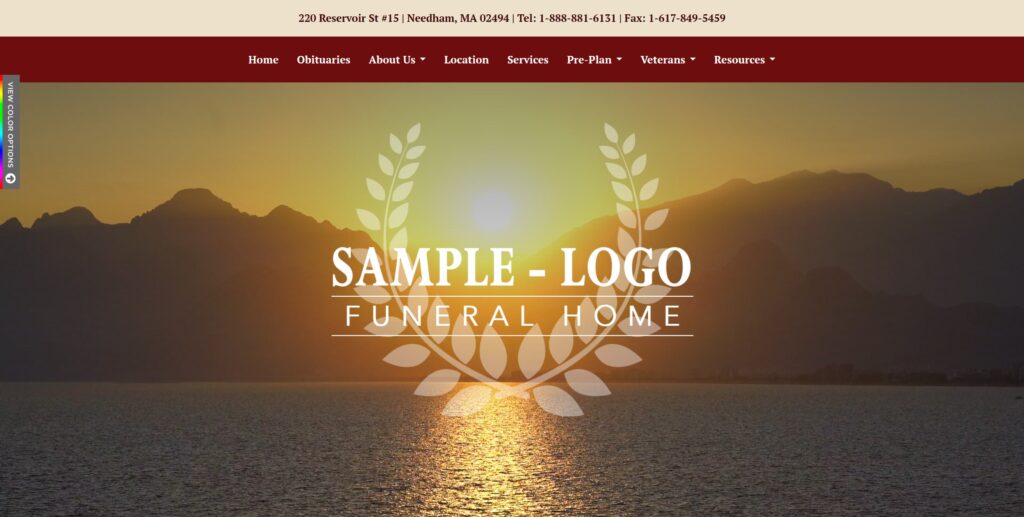 Please, ignore the name. This is a sample website. But you can get two things from this site. The first one is the background video. Look closely, that water ripples. It is a video loop. You can use such a simple video loop on your website as well.

The second one is the texture used in the background of this page. Instead of using a single color, you can consider using a texture like this.
CLICK HERE TO VISIT SAMPLE-LOGO FUNERAL HOME

Funero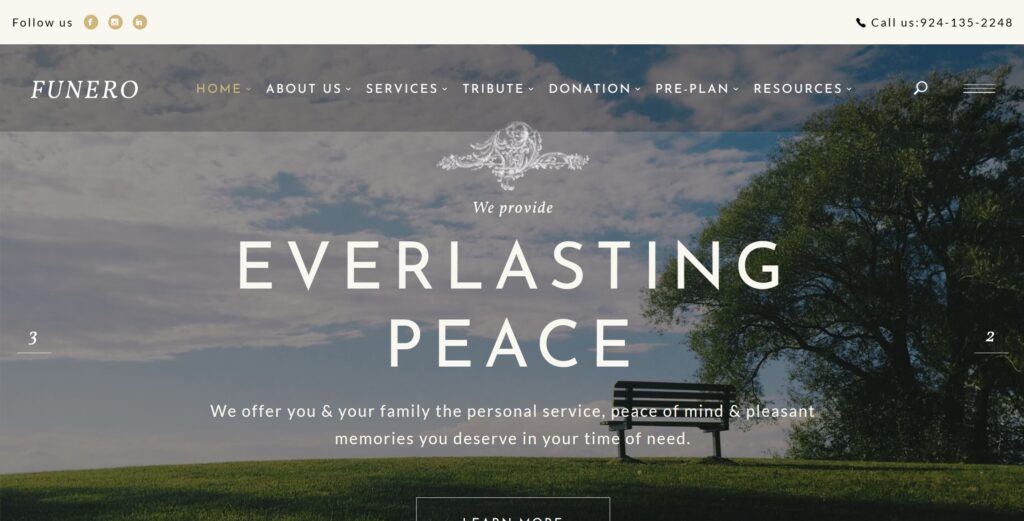 This is another calming funeral home WordPress theme. It is good to display the history of the company on the website. Some clients place a lot of trust in businesses that have been around for a long time. If your business has a long history, it's worth showcasing like this website.

There is one more thing. All these websites use simple and clean templates. Bright colors are not used. Because, you are providing a funeral service, not a wedding service. Therefore, it is best to use neutral colors.
CLICK HERE TO VISIT FUNERO
Memento
A simple preloading animation can be seen on this website. In addition, there are simple mouse hover animations. Also, Recent Obituaries are displayed in an image slider. That's a good way too. Also, the background video loop of the main container is ideal.
CLICK HERE TO VISIT MEMENTO
Funeral Caring Home
Your website should establish the identity of your business. Therefore, you should be very careful about the website template and website theme.

This is a 3-column site. It has a simple template with no image sliders, animations, or pre-loaders. You can decide how many columns the template should have. Generally, three-column website templates are the most popular.
A template with many carousels, image sliders, animations, and post grids is usually not suitable for an obituary website template.
CLICK HERE TO VISIT FUNERAL CARING HOME

Figuring out the perfect color harmony for your website can be a challenge. For that, you have to learn to combine colors properly. It has to be done very delicately. The perfect neutral color palette will enhance the professional look of your funeral services website.